Local Weather from AEMet:
SAMM (the Sailing Association Mar Menor) can be regarded as the sailing Centre of the Mar Menor (see Google Map) and surrounding district.  Members and friends come from as far away as Mazarrón to sail and socialise!
SAMM does not own or hire boats. Membership of one of the Groups. (Click on one of their pictures on the Home Page to see more about them), is required to be able to sail one of their boats.  The Cruising Group networks with external boat owners around the Mar Menor and doesn't own a boat but sails can be offered if an arranged boat is available.
Read more about us by clicking on this link.
Should you want to come along to one of our General Meetings – see below;
All are welcome to attend our General Meeting and meet Members, listen to our speakers and see some of our boats in the CTD (Formerly CAR) Boatyard, Los Narejos see Google Maps and search for "Centro Alto Rendimiento, Los Narejos, Los Alcázares, Murcia, Spain" – please see Note below about its name change.  Meetings start promptly at 11.00 so come earlier for a chat and coffee!  See below for Agenda;
Monthly General Meetings – open to all Members and interested Non-members.   These are held at Las Claras del Mar Menor every Month. (Usually the second Wednesday), except in August.

Click here for our Events and dates for our General Meetings;
Meet at Las Claras from 10.00 a.m. onward for coffee in the bar area, then go straight through to the lounge area, where you should see some SAMM Members.
Note about CAR:  please note that CAR has changed its name in November 2013, to "CTD  (Centro de Tecnificacion Deportiva – Sport Technical Centre) Infanta Cristina" but the website remains the same (so far) and going into the Centre is no different.
"CTD Infanta Cristina" 2014, Los Narejos in Los Alcázares, Murcia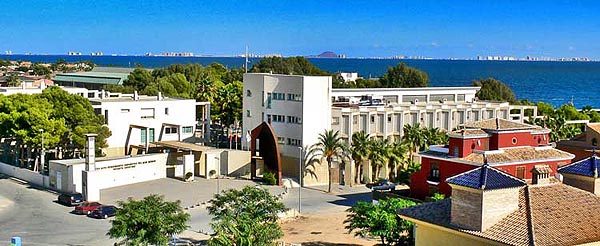 About CTD – for English Sailing Teams
For more information please email webmanager@sailingmarmenor.com
or go to the "About Us" web-page

Race Day on a Calm Mar Menor – looking towards the South
Our Address is; The SAMM Secretary, The Post Room Box 51, Centro Comercial Balneario, C/Rio Borines 68 – 18, 30710, Los Alcázares Murcia, Spain.